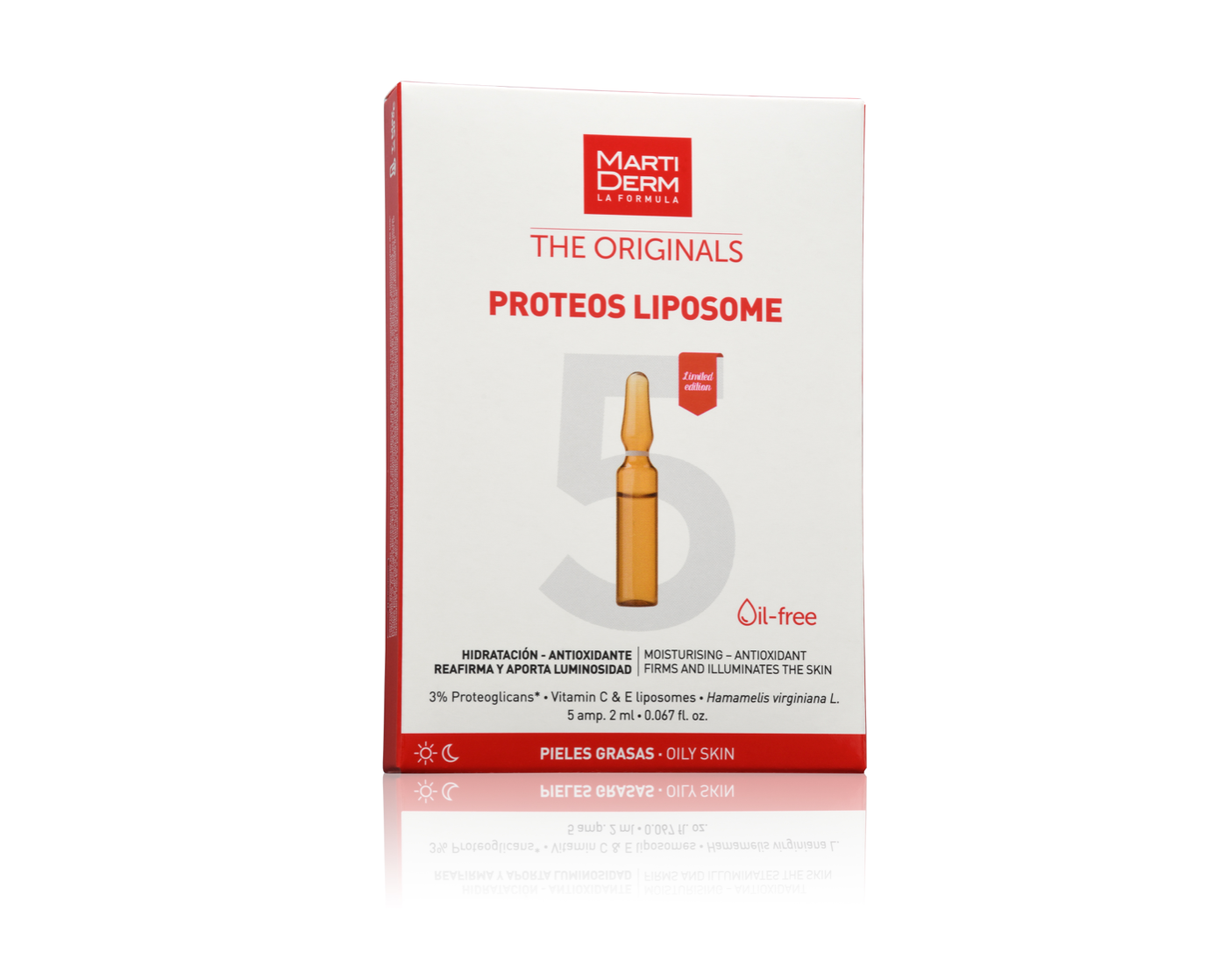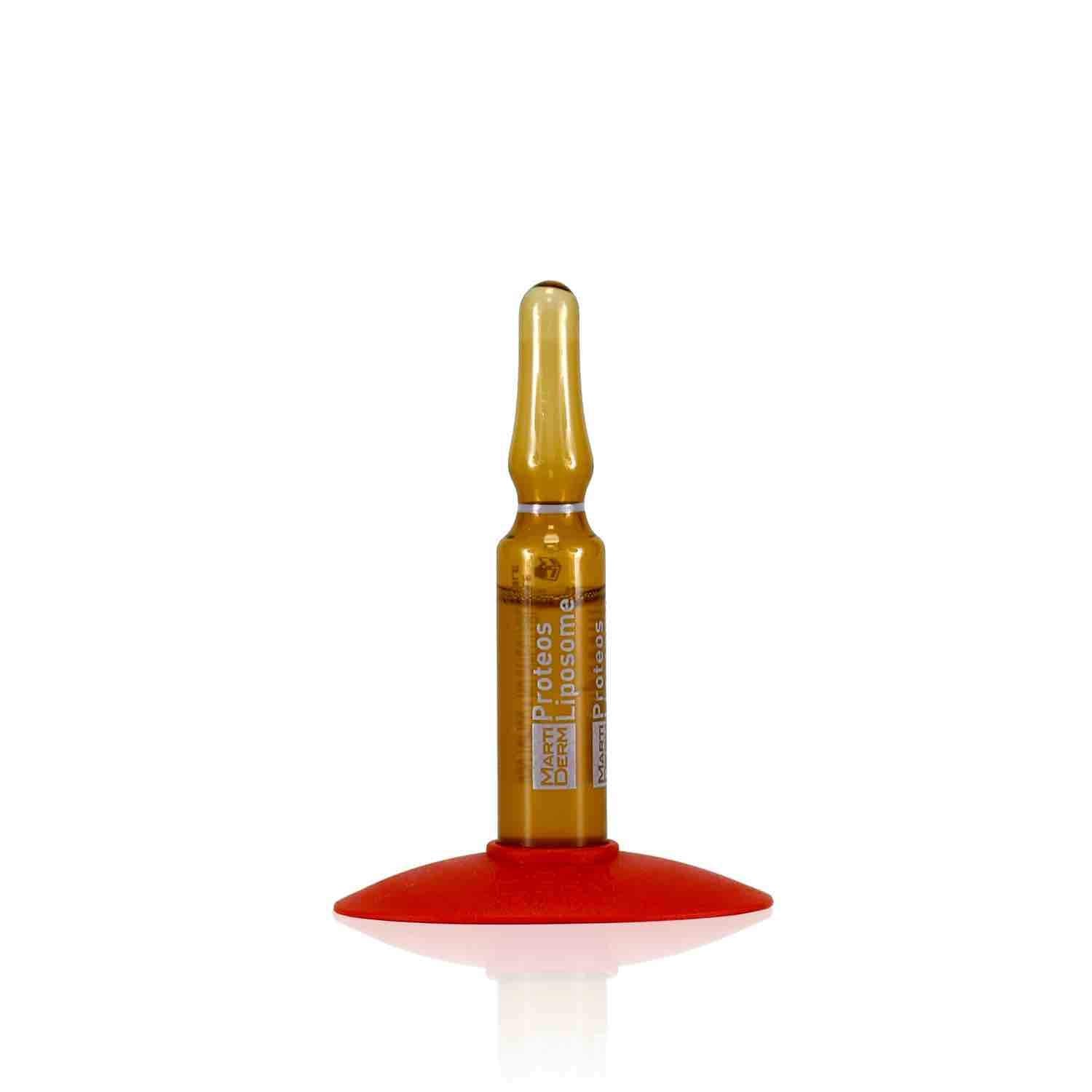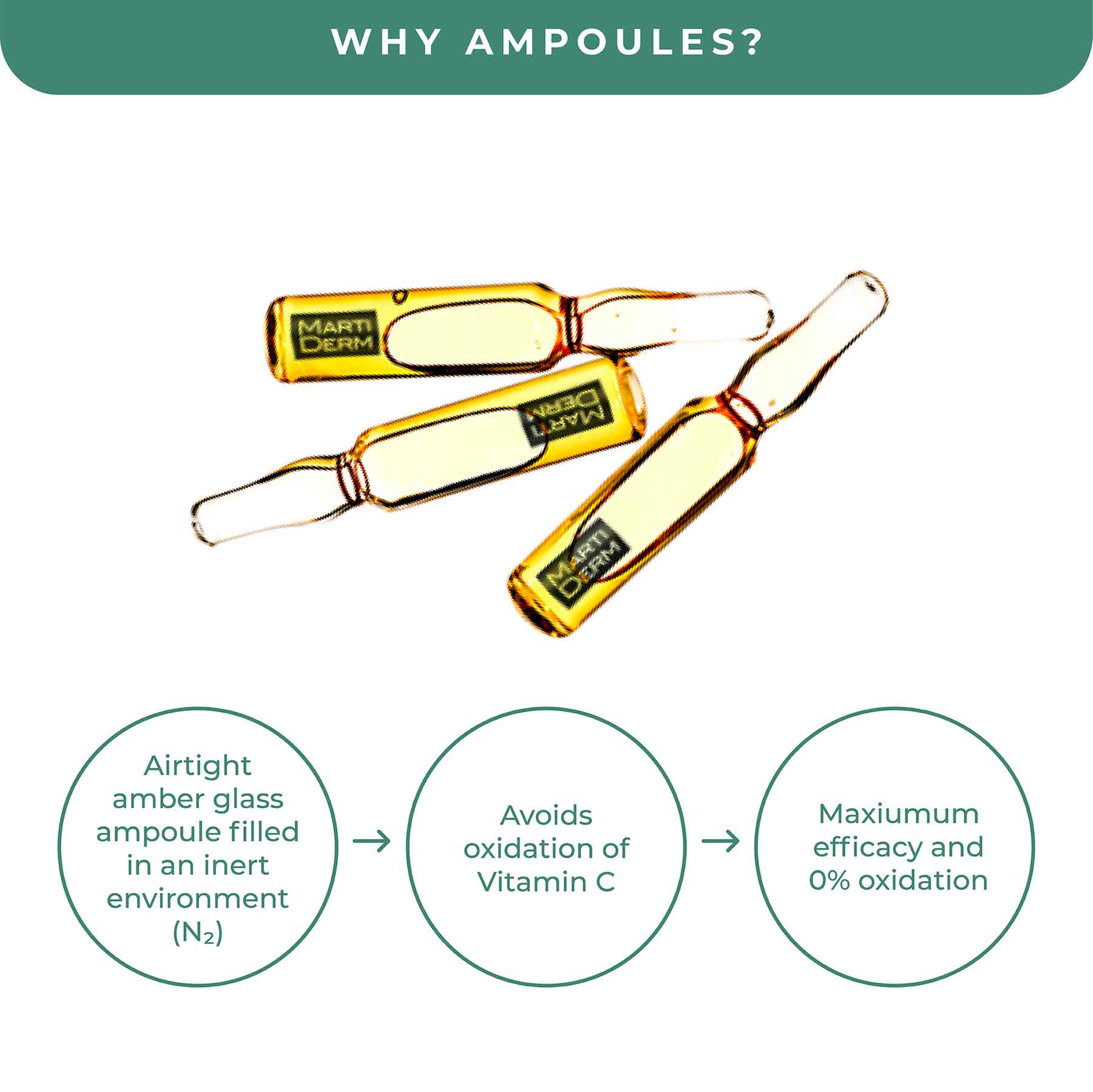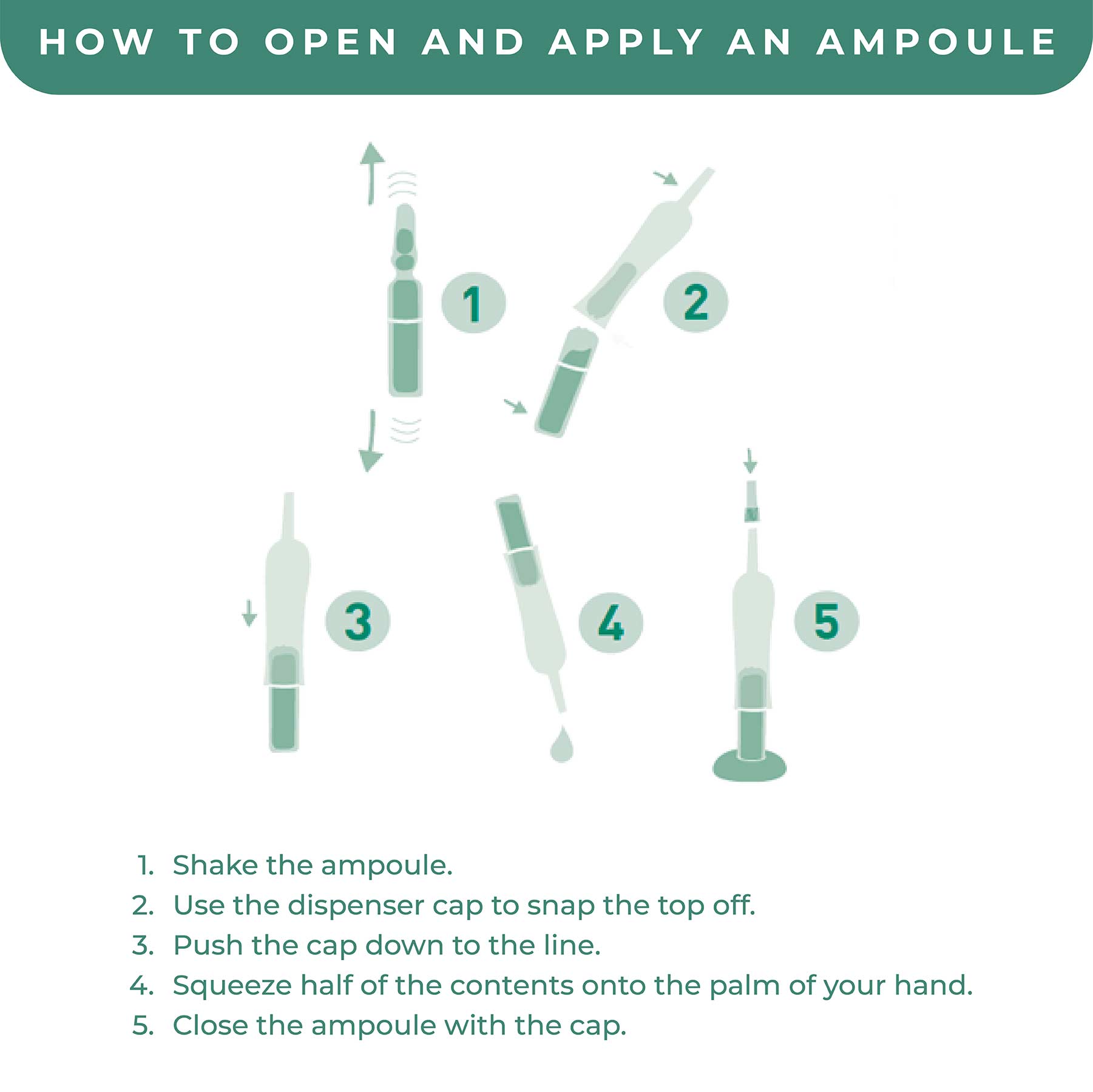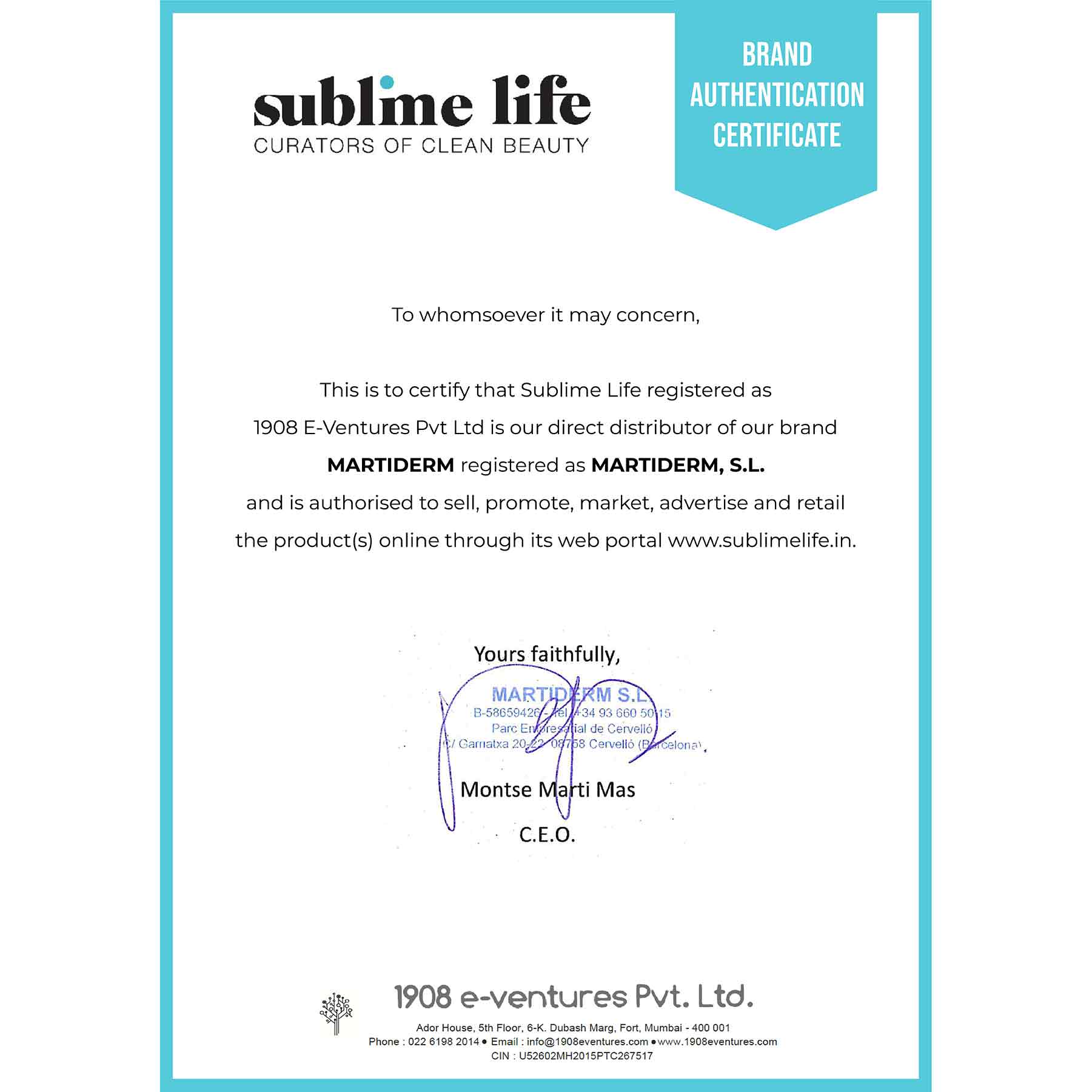 MartiDerm® - Proteos Liposome (5 Ampoules) | Tighten & Refine Pores
Suited To Oily, Sensitive
Targets Repair Skin Barrier/Inflammation
Offers Get 10% off on your first order. Use code Earn 10% loyalty points redeemable on your next order
Aqua, Propylene Glycol, Glycine Soja (soya) protein, Hammelis Virginiana (Witch Hazel) extract in propylene glycol, PEG-40 hyrdogenated castol oil, Glyceryl Polyacrylate, Lecithin, Pentylene Glycol, Potassium Sorbate, Parfum, Sodium Benzoate, Alcohol (solvent) Ascorbyl Palmitate, Sodiu Hydroxide, Potassium Phosphate, Tocopherol.
Address of Mfg / Importer / Brand
MartiDerm S.L., C/Garnatxa 20-22, 08758, CervellO (Barcelona), Spain
Expiry Date
27-01-2025
Price/ml
219.8 per count
Country Of Origin
Spain
• Any pre-paid orders over and above INR 500 are shipped for free. • Shipping charges of INR 40 will be charged on the Checkout page for all pre-paid orders below INR 500. • A fee of INR 60 will be added for orders paid through Cash on Delivery. • Shipping charges of INR 100 will be charged on the Checkout page for all Cash on Delivery orders below INR 500. • We accept Debit/Credit Cards, Net Banking, UPI/ Wallets, Cash on Delivery.
• Returns can be initiated in case of the wrong or damaged products are received. • You can raise a return request for products within 5 Business days of receiving your order. • Any complaints reported after 5 business days of delivery will not be accepted. For more details. Click here.
This oil-free serum has a lightweight, soft and water-like texture that provides deep moisturisation without a greasy sensation. It helps to tone the skin, reduce the appearance of pores and leaves the skin looking fresh and light. Moreover, it neutralises free radicals and reduces the effects of harmful sun damage, giving you a brighter, natural glow from within! Formulated at a higher pH of 5.5, it uses a milder, less concentrated derivative of Vitamin C to avoid irritation or redness, making it the perfect choice for sensitive skin too. If you live in a humid/warm climate or are looking to switch your serum up in those scorching summer months, this ampoule can be your savior to avoid excess oiliness and stickiness too!
Benefits:
Reduces the appearance of open and large pores.
Brightening
Reduces redness & itching
What's in it?
5% Vitamin C is a

powerful antioxidant, it regenerates, brightens and helps repair damaged skin cells. It contains 5% Vitamin C in the form of Ascorbyl Palmitate, which is a lipid-soluble form that helps to maintain the stability and keep the formulation intact. This is ideal for those with sensitive or oily skin, as it is formulated at a pH of 5.5, which is higher than other Vitamin C serums to prevent allergic reactions, redness or irritation and to ensure that it remains fresh and light.

3% Vegan Proteoglycans

are natural macromolecules that restores the skin's cells and improve metabolism of connective tissue components, which helps to restore, repair and enhance turnover of fatty acids. They have wonderful anti-inflammatory and hydrating properties, owing to their ability to retain water. They can absorb up to 1,000 the volume of their own weight, making them a superior choice over Hyaluronic Acid, a commonly used humectant. This improves plumpness, turgidity and fights sun damage too.

Scientifically called Hamamelis Virginiana,

Glycolic Witch Hazel Extract

is naturally a mild astringent, which causes the tissues to contract and helps in reducing the appearance of enlarged pores. It also soothes them and relieves them from any inflammation. Moreover, its antibacterial properties help to balance sebum production, reduce skin redness and provide relief from irritation. Its ability to prevent acne-causing bacteria from infecting the skin is why it is commonly found in toners and mists. Unlike commercial Witch Hazel, it is not extracted using Alcohol, preventing any stinging or allergic reactions.

Vitamin E helps to heal and nourish the skin and is an ideal choice for those with excessively oily or acne-prone skin due to its regenerative properties. It is a powerful antioxidant that plays a vital role in eliminating scar tissue, protecting from sun damage and stabilising the Vitamin C, boosting its power and effectiveness.
Browse through our specially curated picks for

Acne

. Also, discover the comprehensive range of

Martiderm

and

Other Serums

here.
How to use ampoules as a serum
Cleanser > Toner > Ampoule > Eye Cream > Moisturiser > Sunscreen
8 different ways to use skincare ampoules. Read here.
Shake the ampoule lightly and support it on a flat surface. Place the Easy Open device on it, pressing gently until you hear a 'click'. Remove the Easy Open device and the top of the ampoule. Position the dispenser on the ampoule up to the line. Tip half the contents into your hand and apply over your face and neck. Store the ampoule on the base, placing the lid on the dispenser. Recommended usage: It is recommended to use ½ an ampoule at a time and complete using it within 24 hours to prevent oxidation. Store in a cool, dark place away from direct sunlight. Once your skin develops tolerance for it, move to using it twice a day. Always follow them up with sunscreen to avoid any irritation. For best results, follow them up with the MartiDerm Night Renew Ampoules at night for intense repair and renewal.
72% Antioxidant efficacy against UVA radiation.*
90% of participants said their skin looked brighter.**
93% users report appreciating firmer skin.**
41% of participants said the product moisturised their skin.**
DERMATOLOGICALLY TESTED
*In vitro preclinical study of the protective and antioxidant effects against UVA radiation-induced oxidative stress, in the form of ROS reduction, after 2 hours of topical treatment on reconstructed human epidermis.
** In vivo clinical study on 30 women aged 40 to 59 with oily skin under dermatological control at an independent centre. The product's moisturising efficacy after 28 continuous days of application twice a day was objectively determined using a Corneometer® CM 825.
Superb product!
Product quality to packaging-loved every bit of it. Highly recommended!
Exactly what I needed!
The best purchase decision I've made recently.
Great
Definitely must have for vitamin c beginners