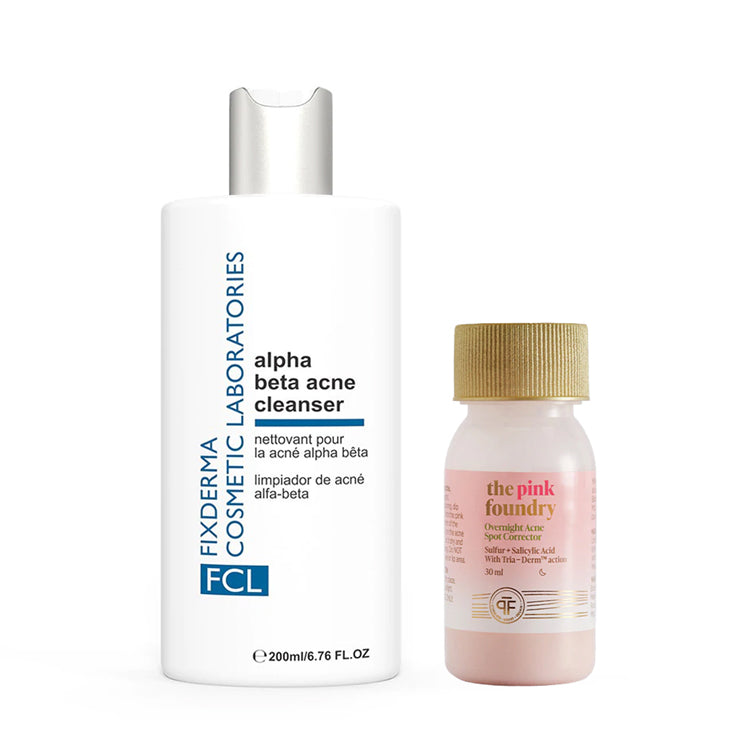 No Blemish Zone Set
Offers Get 10% off on your first order. Use code Earn 10% loyalty points redeemable on your next order
Glycolic acid Works by inhibiting the growth of p. acnes, which is the bacteria that is responsible for the growth of acne. Glycolic acid exfoliates the skin, helping to get rid of dead skin cells and unclog pores. Salicylic acid Salicylic acid is anti-inflammatory, keratolytic (helps exfoliate dead skin cells) in nature. It penetrates pores to loosen clogged follicles by breaking apart dead skin cells, softening them, and helping them slough off the skin. Cutipure A synergistic blend of natural ingredients which has strong and versatile anti-inflammatory as well as oil balancing properties. It additionally shows strong antimicrobial properties with a broad antimicrobial action. It reduces pimples, pustules and comedones. Multifruit BSC Natural Alpha Hydroxy Acids derived from bilberry, sugar cane, orange, lemon & sugar maple. This non-irritating blend of fruit acids exfoliates the dead skin layer removing the hyperpigmentation, minimizes acne scars, and promotes cell renewal. Vanilla Extract Vanilla Extract is rich in antioxidants which prevent and reverse skin damage caused by free radicals. It helps to soothe the inflamed skin due to acne. Isopropyl Alcohol, Aqua, Calamine, Camphor, Glycerin, Sulphur, Zinc Oxide, Titanium Dioxide (CI 77891), Salicylic Acid, Talc.
Address of Mfg / Importer / Brand
Ador House, 5th Floor, 6K Dubash Marg, Kala Ghoda, Mumbai - 400001
Expiry Date
Kindly refer to individual products for expiry date of the product
Price/ml
Country Of Origin
India
• Any pre-paid orders over and above INR 500 are shipped for free. • Shipping charges of INR 40 will be charged on the Checkout page for all pre-paid orders below INR 500. • A fee of INR 60 will be added for orders paid through Cash on Delivery. • Shipping charges of INR 100 will be charged on the Checkout page for all Cash on Delivery orders below INR 500. • We accept Debit/Credit Cards, Net Banking, UPI/ Wallets, Cash on Delivery.
• Returns can be initiated in case of the wrong or damaged products are received. • You can raise a return request for products within 5 Business days of receiving your order. • Any complaints reported after 5 business days of delivery will not be accepted. For more details. Click here.
1. FCL Alpha-Beta Acne Cleanser
FCL Alpha-Beta Cleanser is a gentle, soap-free gel cleanser quickly dissolves excess oil, skin impurities, and makeup that can clog skin pores. It reduces comedones and pimples and regulates sebum production. As you cleanse with this BHA formula, the 2% Salicylic Acid with Capryloyl Glycine & Glycolic Acid blend delivers deeply purifying exfoliation for optimal cleanliness and newfound smoothness. Your complexion becomes illuminated, with a softer texture and more even tone.
2. The Pink Foundry Overnight Acne Spot Corrector
Overnight Acne Spot Corrector is a fast-acting treatment that clarifies skin and works quickly to shrink and clear existing breakouts, blackheads and whiteheads. The Pink Foundry's Overnight Acne Spot Corrector is here to support you in your skin health journey! This unique formula works without irritating one's surrounding skin, while you sleep.

Apply directly to your entire face (just avoid eyes, lips, and mouth). Because glycolic acid dissolves dead skin cells, applying to the entire face will ensure even exfoliation. Massage thoroughly and rinse with lukewarm water. A mild tingling sensation will occur so follow up with high SPF sunscreen daily whenever you go out. 1-Do NOT shake the bottle. It is very important that the two layers in the bottle are sperated for the product to be effective. However, if the layers are mixed, keep the bottle aside for a few hours till the layers are visbly and completely seperate. 2-Use once a day, at night. After cleansing and toning, dip a clean cotton swab into the pink sediment at the bottom of the bottle. Apply directly on the acne spot, do not rub in. 3-Let it dry and rinse off in the morning. Do NOT use on broken skin, eye or lip area. Tip: Make sure to not skip using a moisturiser and sunscreen of your choice the next day, to maintain a healthy skin barrier.